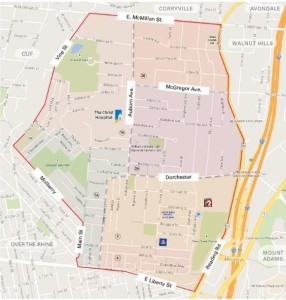 In Cincinnati's early days, Mt. Auburn was an escape from the long days working in Downtown—a retreat from the city with cleaner air, smaller crowds, and beautiful views.
Today, Mt. Auburn is home to over 7,000 residents (and approximately 9,000 more that come here to work).  Residents and visitors enjoy some of the best views in the city.  Mt. Auburn is home to many Cincinnati treasures, including: The William Howard Taft Birthplace & National Historic Site; Jackson, Hopkins, and Inwood Parks; and The Christ Hospital.
It's an exciting time to be in Mt. Auburn.  New homes are being built, Parks are getting new life, and the Auburn Avenue corridor is planning for the future. No matter your income, religion, or race, you can call Mt. Auburn your home…a great place to live, work, and play!